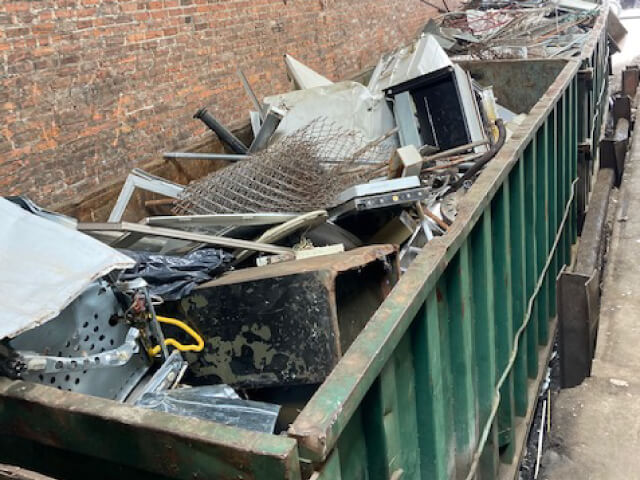 Is your company ever in a situation where you have to deal with large amounts of scrap metal? H&C Metals understands how frustrating it can be to manage, clean- up, and remove these unwanted materials as part of an organization's day-to-day operations. Fortunately, there is a convenient way to simplify the process of recycling scrap metal. You can consider calling a professional scrap metal pickup service provider for the means to store and haul away all of these materials on your behalf.
So, what are some of the careful considerations your company should think about when you have scrap metal that needs to be hauled away?
Work with an Insured Scrap Metal Recycling Company
It is important to consider the potential negative cost that your organization might incur when hauling your own scrap metal. For example, hauling large, heavy, or bulky scrap without using heavy-duty trucking solutions designed for this purpose could damage your and other people's vehicles while in-transit. These materials will often shift during transport, resulting in potential loss of control of the vehicle. Additionally, sharp materials may scatter across the road and cause hazards to surrounding vehicles, ruining vehicle parts that are typically expensive to replace. There are also associated insurance costs should damage occur to a company or employee-owned vehicle.
Choose Environmentally Friendly Scrap Metal Recyclers
Trusting a metal recycling company to dispose of your scrap metals is an environmentally responsible action. Metal recycling companies are motivated by profit: By working with a professional pickup service provider (such as a metal recycler), your industrial scrap metal will be delivered to a metal recycler for further processing and sold to smelters. For your peace of mind, metal recycling companies can provide certification of metal destruction and the proper disposal of materials.
Opt for Scrap Metal Recycling Solutions that Help Increase Productivity
Will managing and disposing of metal waste affect your operations and/or productivity levels? If the answer is yes, your company may be losing valuable time and money trying to do both. When your employees do not have to stress about organizing scrap waste on your premises (or at your job site) and hauling it away numerous times, they can instead position all their focus on their jobs to expedite job completion. For some types of businesses such as contractors, there is a financial advantage to completing a project as fast as possible in order to start the next one. If you want to see your company's productivity skyrocket, it's time to consult with a reliable scrap metal pick-up service provider in New Jersey.
Select a Metal Recycling Company that Promotes Workplace Safety
Industrial scrap metal comes in all shapes and sizes. Because commercial scrap materials can be heavy, feature jagged edges, and are large enough to cause serious harm to workers and significant property damage, you may create a potentially dangerous situation if scrap metals accumulate within your construction or project site, warehouse, or place of business. By selecting a professional scrap hauler to transport waste materials to a trusted scrap recycling center on a regular basis, you can create and maintain a clean and safe work environment for all of your employees. For example, business owners can significantly reduce the risks of falling objects and/or fire hazards and in turn, avoid costly Workers' Compensation claims and other legal issues.
Who Can You Call to Pick Up Your Scrap Metal?
When you call H&C Metals for your scrap metal recycling needs, we help save our customers time, money, and labor. We advise customers regarding the most efficient logistical means to manage their materials. For example, if you have no experience in packaging, loading and hauling scrap, our recycling experts and drivers can provide consultation services at the job site to benefit all parties involved. Our company is fully insured and has proven solutions for efficient on-site scrap storage strategies in tandem with large trucks able to transport packaged or loose scrap materials. This will result in organizing your scrap and minimizing the frequency of trips needed to remove them.
If you want to schedule a pick-up with H&C Metals, do not hesitate to contact us today.