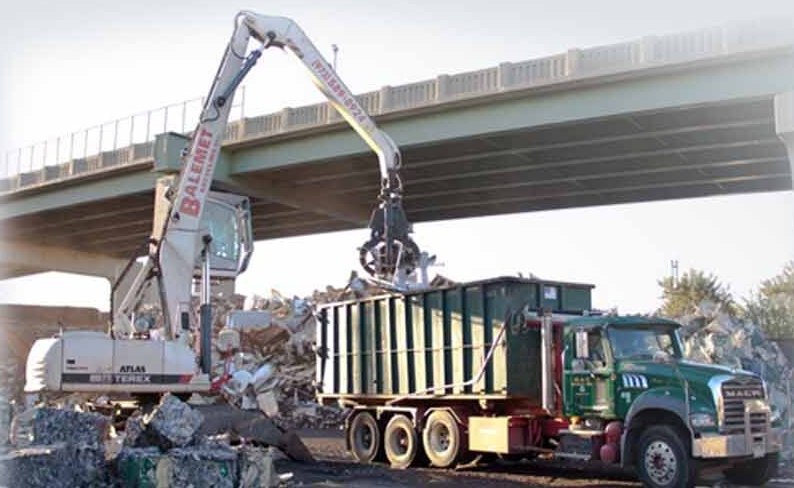 At H&C Metals, Inc., most of the materials we haul in our scrap metal trucks are typically steel based. Steel, which is developed from mining iron ore, is considered to be a ferrous metal—it is magnetic and is the most commonly manufactured and recycled metal in existence. Other types of scrap metals we handle on a daily basis include stainless steel, copper tubing, and appliances, and much more. Our company utilizes a wide array of scrap metal trucks to transport these materials for further processing.
Although we can handle the majority of trucking requirements and scrap loads, our choice of vehicles typically depends on the type and volume of scrap that needs to be moved, its form, and how it is packaged by the client. For example, some applications require us to utilize our owned and operated 53ft tractor-trailers to transport pallets of servers, used commercial office furniture, or large quantities of appliances. In addition, we may use flatbed trucks to transport large stainless steel tanks or oversized equipment and machinery.
The majority of the scrap we haul is via our roll-off trucks. This type of scrap metal truck delivers open-top roll-off containers (e.g., dumpsters) to our customers who load the container from over the top or at one side which can be opened. Read on if you want to know what else is inside our scrap metal trucks!
Demolition and Construction Scrap
H&C Metals' trucks for scrap metals can haul materials from interior and exterior building demolition projects. Common scrap metals from these projects include steel beams, trusses, metal studs (interior frame of a building), sheet pile, pipes (such as sprinkler pipes), large cast-iron boilers, and even insulated copper wire products. In most cases, our team hauls loose, mixed types of metals of varying dimensions (non-uniform size), including heavy beams and angle iron. To complete the job, these types of scrap loads are ideal for our industrial roll-off trucks.
Manufacturing Scrap
Manufacturers generate scrap during most production processes. Scrap metals and materials are typically collected and sold to scrap recycling companies for processing and then sold to mills. A mill, or foundry, will eventually sell the new metal it's prepared back to those same manufacturers to build more consumer products; a typical product life cycle. Manufacturing scrap metal refers to a range of different material forms, from shavings (turnings) to cut-offs to skeletons to excess punchings and solids, which can be generated during the process of building products.
e-Scrap or Electronic Scrap
Technology grows at an incredible pace; the ever-changing landscape of consumer electronics could mean your devices (computers, cell phones, etc.) will be obsolete in just a few years. Although upgrading your end-of-life devices is a fairly simple process, knowing how to deal with old electronics isn't. Due to New Jersey's Electronic Waste Recycling Act, old PC's, Laptops, Cellphones, and Servers, etc. should be recovered for repurposing. You will be pleased to know that H&C Metals has a computer recycling program that accepts many types of commercial and consumer electronics waste. These scrap items include insulated copper wire products (e.g., power cords), smartphones, routers, network gear, laptop computers, servers, computer towers, loose circuits and motherboards, and more.
H&C Metals adheres to a strict policy of distributing electronic scrap only to vetted and approved domestic dismantlers. These consumers are either R2 or e-Steward certified electronic equipment recyclers that maintain the highest standards of environmental responsibility.
Scrap from Materials Recovery Facilities – Waste Management
Also known as MRF's, materials recovery facilities typically recover scrap such as tin cans (steel food or pet cans), aluminum cans (used beverage cans: "UBC") and other types of Aluminum solids such as foil, as well as steel—primarily light iron (light gauge steel).
Contractor Scrap
At H&C Metals, we have been providing recycling, hauling, and scrap metal pick-up services for a variety of contractors for decades. Our company processes and hauls a combination of ferrous metals and nonferrous metals. Ferrous metals can include sprinkler pipe, roof-top HVAC equipment, duct-work, steel studs, cast iron pipe, corrugated roof decking, and construction materials from renovation projects. Nonferrous materials can include items such as insulated wires and cables (e.g., Romex, Aluminum & Steel BX Cable, CAT 5/6 Wire), electric motors, sealed units (compressors), and various grades of aluminum scrap.
If you want to learn more about what our scrap metal trucks can haul, be sure to check out our What We Accept Page.