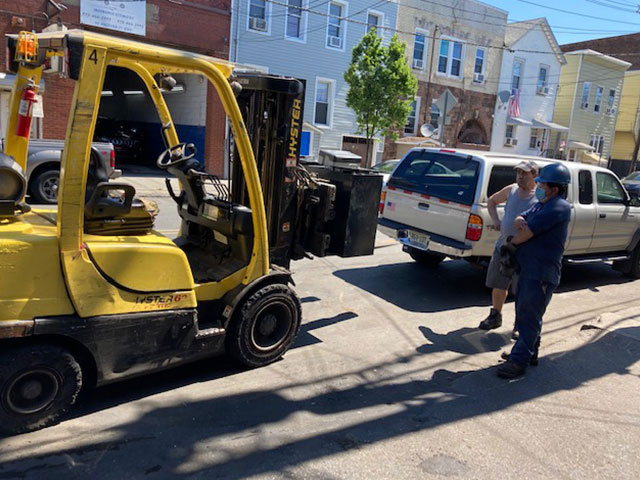 Do you deliver scrap metal? Whether it be post-consumer or post-industrial scrap metal from a general contractor, an HVAC company, a plumber, an electrician, a mechanic, a small scrap metal collector, or a homeowner who is cleaning your garage, basement or attic, H&C Metals strives to be the Number One destination for unwanted, excess scrap metal, as well as select computer and electronic scrap.
About H&C Metals, Inc.
While H&C Metals is well known as a New Jersey supplier of heavy trucking, providing hauling services for large quantities of industrial & commercial scrap metal for their metal recycling pick-up accounts, H&C highly values its scrap drop- off retail customers to supplement the quantity of scrap their trucks transport.
Why Do We Work with Retail Scrap Customers?
H&C recognizes the importance of its retail scrap customer base. The face-to-face interactions our employees have with customers provides a great opportunity to earn their trust. We exchange information about scrap materials, answer questions about scrap markets and pricing matters, consult them on scrap metal segregation to speed up their transaction and help them earn more money, as well as alerting them about our trucking options which they can frequently take advantage of to expedite a project. We also solicit their feedback about the quality of our retail scrap metal services and the steps we can take to enhance their overall scrap delivery experiences.
Understanding H&C Metals' Key Retail Scrap Service Components
Courting new customers and retaining them is of ultimate importance to H&C Metals. Word-of-mouth marketing and our website are constant sources of new customers. Once customers are here, however, the goal is to make their overall experience welcoming. We strive to accomplish this by:
Paying a competitive price for ferrous and non-ferrous metals.
Providing quick, easy, accurate cash payments via our ATM machine that is conveniently accessible to where customers unload their scrap.
Providing a clean environment to deliver scrap:
– H&C staff routinely sweeps the street and sidewalk adjacent to our building to ensure arriving customer vehicles have a clear path to park & begin unloading
– Customers unloading their scrap materials at curbside are separated from and not competing with H&C scrap processors, or piles of scrap found on the ground inside our plant.
Managing Traffic flow
– H&C employees actively direct customer vehicles where and when to unload, which results in minimizing their wait time, expediting unloading, and ultimately paying them faster.
Accepting both Ferrous (steel scrap) and Nonferrous (non-magnetic metals, such as Copper, Aluminum, Brass & Lead), to make it convenient for the customer to make one stop at a single location to drop off all their scrap metal.
Providing multiple scales close to where customers unload and with digital weight display for better visibility.
Offering essential equipment for customers to conveniently organize, separate, and unload their scrap—including mobile carts and industrial hoppers, a mechanical aluminum can sorter, as well as H&C fork-lift trucks to assist with moving and weighing heavier, bulkier materials, such as lead acid batteries on pallets, cast iron, aluminum siding, and copper cable.
Providing each customer with a professional, easy to read, computer generated scale ticket, including their name, unique account number, the list of commodities sold, their corresponding weight, price, and total dollar amount.
Operating at a convenient location—close proximity to major State highways and the two primary City of Newark-based arteries: McCarter Highway (Route 21) and Broad St.
Accepting any size scrap delivery, with a scale weight that equates to a minimum of $1.00 value.
Choose H&C Metals for Stellar Retail Scrap Delivery Services Today
H&C Metals provides a clean and safe environment for dropping off your scrap metals. Enjoy complete peace of mind knowing that H&C Metals pays fair and competitive prices based on market conditions for all ferrous and non-ferrous materials.
For additional information about our company, services or prices, please visit our web site at www.hcmetals.com or contact us at (973) 937-8917.